153.22mph The fastest speed achieved by a 1004/ EVER!
COMMEMORATIVE POSTERS
NOW AVAILABLE
594x420mm posters printed on archival qualioty photographic paper signed by both drivers available from www.crucialimage.org.uk
2009 a season of testing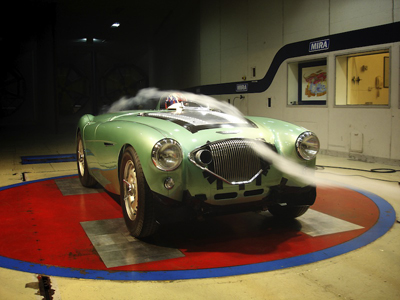 This year has seen various tests take place to evaluate aerodynamics and gearing on the car. To attain those vital few mph that make all the difference to getting a record, a lot of detail work is required and furthermore produce the stability for an endurance run . This car has to run for a minimum of 4 hours at 150 mph and driving on a banked circuit at high speed is not easy so keeping it stable is a major issue.
Late 2008 tests had proved the cars straight line speed in excess of 142mph but further work was required on suspension and aerodynamics to suit the 2 mile circular Millbrook track chosen for the record attempt.
In the March 2009 test, owner Martyn Corfield said that despite completing one-hour in excess of 142mph he was still comfortable at the wheel and could have managed more laps in one stint if required, so driver comfort was being achieved at that point.
MIRA tests followed and evaluated the airflow providing some illuminating insights into the high speed performance of the Healey shape. Certain myths such as the amount of lift generated were unfounded. However other points such as the flow of air through the body and engine were significant. Subtle modifications were made that do not detract from the original specification of the car but might make the goal of 150mph constant running more achievable.
In October 2009 a shortened test on a blustery day showed the effect that wind speed over 20 mph can have on a high speed car on a banked circular track when it slowed the car by 2 mph. The day was not wasted however as significant work was done on the organisational side in preparation for the record attempt.
Final tests in Mid October proved that the car was capable of 150 mph when Martyn Corfield recorded 9 laps over 150 mph, a total of 18 miles at record breaking pace which is the fastest continuous period that a Healey has run in the World this year including the Australian Streamliner and Endurance cars
Submitted by admin on Mon, 10/20/2008 - 14:05.