153.22mph The fastest speed achieved by a 1004/ EVER!
COMMEMORATIVE POSTERS
NOW AVAILABLE
594x420mm posters printed on archival qualioty photographic paper signed by both drivers available from www.crucialimage.org.uk
The new 'Healey Endurance' record car gets approval from 'the expert'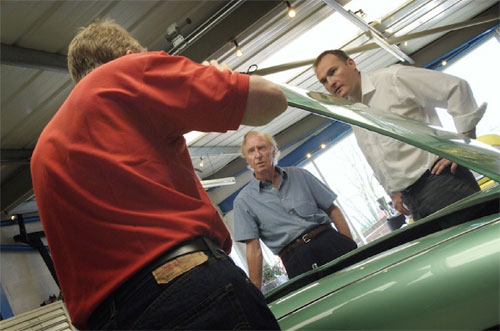 Roy Jackson Moore visited the premises of Denis Welch Motorsport on the 7th May 2008. This was a historic visit to celebrate an historic event, the official launch of the Healey Endurance car to the public.
Roy was the North American sales Director for the Healey works and went on to be a major part of the North American sales effort for British sportscars with names such as Aston Martin. Perhaps his most notable achievement was to introduce Carrol Shelby to AC which resulted in the creation of the legendary Cobra car.
His talents didn't stop there though, he was a very competent driver in his own right competing at Sebring in long distance races. He joined the 1954 Healey endurance team partnering names such as Donald Healey, George Eyston, Carroll Shelby and Mort Goodall.
On Aug 23rd 1954 at Bonneville salt flats, supervised by the American Automobile club the Healey Endurance car set 83 National and International Class D records. A 24-hour average speed of 132.29 mph was achieved and Roy was the one to bring the car over the finishing line.
Denis Welch Motorsport of Yoxall have been recreating this very famous car with a view to challenging the record in August 2008 at Millbrook in the UK. Having got the car to rolling chassis stage with a lot of research into original drawings and configuration, they wanted to have someone with authority to view their work. Martyn Corfield who owns the car thought why not ask one of the original drivers his opinion and contacted Roy to look the car over.
As you can imagine after such a long time there are many things that get re-interpreted and there is nothing like the original on the spot, point of view to verify the real facts. This meeting produced a series of anecdotes that went some way to verifying a lot of details and scotched some rumours in the process. For instance there had been some talk of the car using a David Brown gearbox but Roy confirmed that this was not the case (this is vital information if the re-creation is to be accurate).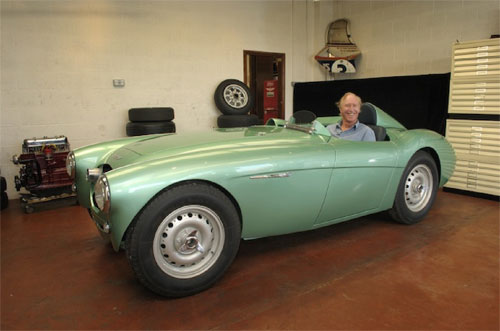 "The car had a Taxi gearbox on the 1953 attempt which was ok, in 1954 we didn't use the David Brown gearbox (which was a horrible box anyway; you had to use two hands to change gear) instead we used an early BN2 box".
Commented Roy at his recent visit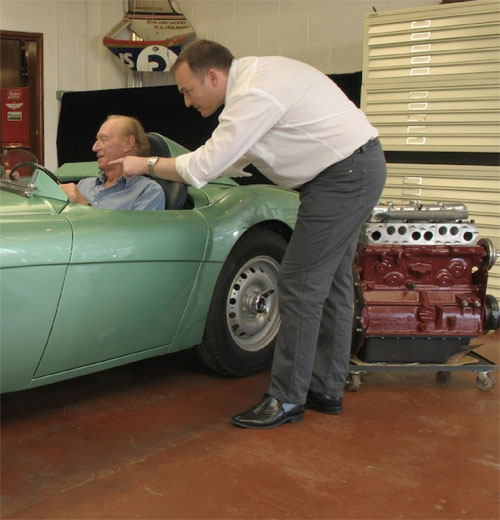 "The two piece instrument binnacle is absolutely right, why they changed to a one piece I don't know, some chap at Austin probably worked out that they could save six-pence in the build cost!"
Commented Roy on seeing the two tone instrument cluster at his recent visit
"The colour is right, just a much better finished than the original car. The paint was metallic but appeared matt as it had been painted in a rush"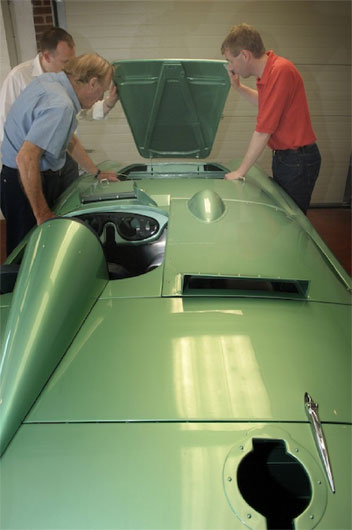 "Tonneau and head faring are in proportion to how I remember them, the seat is very comfortable (as it was in 1954) although it could do with moving back a couple of inches"
Commented Roy about the bodywork and colour scheme
"We were advised not to hold the car at 4600rpm as this created a harmonic in the engine that may cause problems; 4500 and 4700 were ok though."
Commented Roy on the engine performance over 24 hours
The car was released to the Healey fraternity at Goodwood May 16th this year and is on track to complete speed trials in July ready for the August record attempt.
"This car is going to have some serious work to do once its out there on the track. We are looking at speeds in excess of 150 mph for 24 hours as a target so its vital that we are able to get the specification right as well as historically accurate. Roys input was invaluable in getting first hand comments on our work and having the ability to consult with him on some of the unrecorded detail was an opportunity that you get very limited chances to benefit from. We are deeply indebted to him for his help and sparing us the time"
Commented Jeremy Welch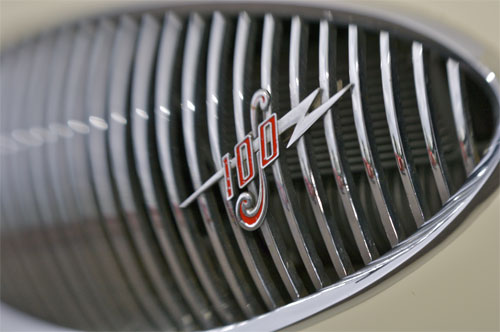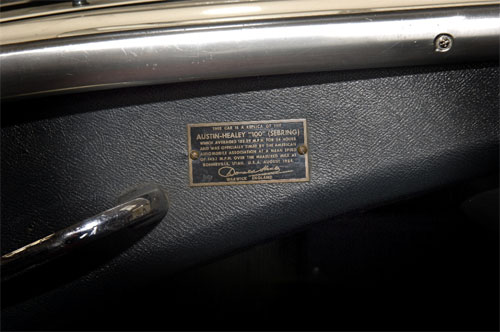 The original car became the prototype for the Austin Healey 100s of which only 50 were made and each one had a plaque on the passenger dash board commemorating the original event.
Submitted by admin on Mon, 06/30/2008 - 08:18.