153.22mph The fastest speed achieved by a 1004/ EVER!
COMMEMORATIVE POSTERS
NOW AVAILABLE
594x420mm posters printed on archival qualioty photographic paper signed by both drivers available from www.crucialimage.org.uk
OFFICIAL NEWS - FIA CONFIRM 1000km international record, + 'FASTEST EVER UK 100 mile' +++ 15 other records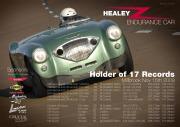 Sunday 15th November 2009 saw the 'Healey endurance' car rebuilt by Denis Welch Motorsport succeed in achieving the International Speed record for 1000 Km (International Group 2 Class 8 non supercharged).
The car successfully completed 308 laps at record breaking speed, averaging 148.13 mph
The ambition was to beat the non-supercharged 4 cylinder records set by the Healey works team in 1954 at 132 .81 mph. So mission accomplished.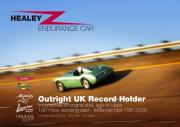 Fastest 100 Miles Poster"Fastest 100 Miles Poster: 594 x 420mm limited edition signed photographic quality poster from www.crucialimage.org.uk" title="Fastest 100 Miles Poster: 594 x 420mm limited edition signed photographic quality poster from www.crucialimage.org.uk" class="image image-thumbnail" width="180" height="127" />Fastest 100 Miles Poster: 594 x 420mm limited edition signed photographic quality poster from www.crucialimage.org.ukRemarkable the car also set THE FASTEST 100 MILES EVER RECORDED IN THE UK at 150.48mph irrespective of age of car, engine size or type. Taking the record from Prodrive. It has also been confirmed officially as the FASTEST HEALEY IN THE WORLD in 2009
The car had a trouble free run with 3 scheduled pit stops and was driven by owner Martyn Corfield and Engineer Jeremy Welch in 4 stints of one hour each.
A further pit stop was made after Martyn spun across the track at 150 mph by the damp surface from the previous days torrential rain and howling gales.
After such a mind numbing moment he was still able to gather the car, losing no speed and after a safety check carry on unabated to the next scheduled stop.
Points and condenser were used and a lot of old technology in keeping with its traditional heritage, a lot of hard work and effort was put into building this car by the Denis Welch Motorsport team and as no one had done this for 55 years, painstaking research and committment to detail were a high priority.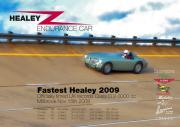 Fasters Healey poster: 594 x 420mm limited edition signed photographic quality poster from www.crucialimage.org.ukBEATING THE AUSTRALIANS AGAIN - THE FASTEST HEALEY IN THE WORLD IN 2009
This wasn't the only Healey Endurance car on the scene at the time, an Australian Team led by Steve Pike built a similar car and ran it at Bonneville speed week in Sept 2009 but could only achieve 127mph against the UK cars 153mph. Even their streamliner with a supercharged engine couldn't beat the UK cars outright speed achieved over 10 miles. This is a great testament to the power developed by the Welch engine.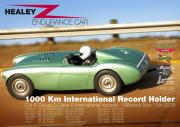 1000 Km Record PosterThis has been a dream come true for owner Martyn Corfield who always wanted to own the original Healey works car but his ambition was thwarted when he discovered that it was scrapped in the late fifties.
Now he has his own piece of history. But that's not the end for him, as he is resurrecting the 'Atalanta' car brand with recreated cars and a new speed record car on the agenda for launching in the next 12 months.
Martyn commented
" To achieve the 1000 Km record was the objective and we have handsomely beaten the 1954 record and to our amazement set the fastest 100 miles ever in the UK. I am absolutely over the moon with the results particularly given the weather. It's the fastest Healey in the World in 2009 and a big milestone in the development of historic performance cars something I intend to repeat with Atalanta Motors".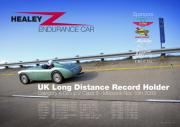 UK Long distance records posterAs for Constructor and Co-Driver Jeremy Welch, his business in Yoxall continues to produce some of the best race, rally and performance cars that regularly beat the competition all over the world. This project has been a monumental achievement, given that he has also kept a thriving business at the front of the grid and is developing technologies to further improve future customers results including bedding in a state of the art CAD/CAM system.
" The 1000 km endurance run is a major achievement both for myself and the company. It's definitely the fastest normally aspirated 100/4 Austin Healey in the World today at 153.44 mph over5 Km, according to the officials. The entire team is delighted. We are also looking at offering a customer version of this car for those people who want a classic performance car with a thoroughbred history, but don't have the mega budget you need for an original. We are looking forward to showing the first car early in 2011."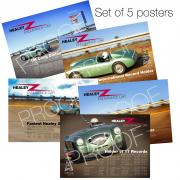 5 Poster set: 594 x 420mm limited edition set of 5 signed photographic quality posters from www.crucialimage.org.ukCOMMEMORATIVE POSTERS
The team have commissioned a 'limited edition set of signed prints' for enthusiasts (an ideal Christmas present) details can be obtained at www.crucialimage.org.uk
100S catalogueNEW PARTS CATALOGUE
We have the experience and a host of new parts suitable for original cars also, and all this is in our 100S brochure. It is FREE to anyone wanting one and contains much of the story of the Endurance car development.
NEW CARS
After the works 1954 records, the Healey 100S was announced to commemorate the event and 50 were made as a celebration model, they now are much sought after, fetching incredible prices.
We are offering a commemorative limited edition run of cars and are in the process of constructing the first one to show it to the public early in 2011"
Thanks must go to Michelin tyres and their distributor Longstone tyres whose products never let the team down and Sunoco for supply of fuel and pumping equipment.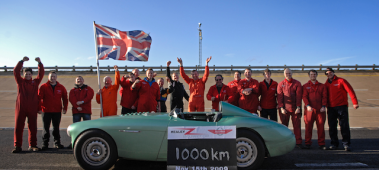 The team